Summer Ballet Program, Program II Ballet Intensive
00059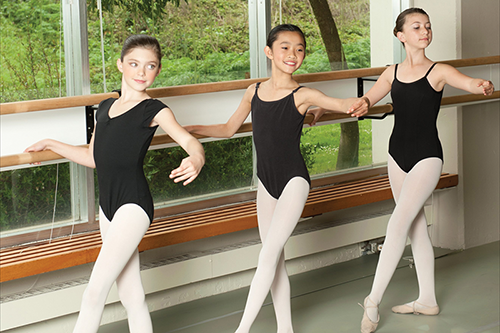 You will be challenged in this ballet intensive program to reach your maximum potential. This program focuses on improving technique, flexibility and strength as well as expanding students' repertoire while maintaining a fun, focused environment. Drawing from the Vaganova Method, we incorporate barre work, center work, and classical variations for a well-rounded learning experience.
Program Details
Age: 11+
Date/Time: June 17-28, M-F 9:00am – 5:00pm
Cost: $1,450 ($750/week)
Early drop off and extended care available.

Sample Schedule:
8:30-9:00 (Optional)Early drop off and Warm-ups
9:00-11:00 Technique
11:00-12:00 Variations
12:00-1:00 Lunch
1:00-2:00 Character Dance
2:00-3:00 Chinese Folk Dance
3:00-4:00 Flexibility/Conditioning
4:00-5:00 Nutrition for Dancers/ Arts appreciation
5:00-5:30 (Optional) Extended Care/Ballet films

Program Details
Age: 5-10
Date/Time: June 18-27, M-F 10:00am – 4:30pm
Cost: $1,050 ($535/week)
Sample Schedule:
9:30-10:00 Early dropoff
10:00-10:30 Conditioning and Ballet Barre
10:30-11:45 Ballet Technique & Choreography
12:00-1:00 Lunch
1:00-2:30 Arts Enrichment Classes
2:30-2:45 Break
2:45-4:00 Rotation of Performing Arts Classes
4:00-4:30 Free Activity, Dismissal
June 17- 28 (Session 1)
$1450/Session (1450)
Weekly Rate
June 17 - 21 (750) June 24 - 28 (750)
School Currently Attending
Medical issues/ Allergies, if any